Long Island Funeral Limo
Metro Limousine Service of Long Island Provides High-Quality Courteous Chauffeurs for Funeral Limo Service. A sole occasion such as a funeral is stressful enough. Having to care for the limousine transportation on your own can add even more stress to you and your family during this difficult time. If you need funeral transportation, Metro Limousine Service of Long Island, can provide high-quality, professional limousine service in your time of need.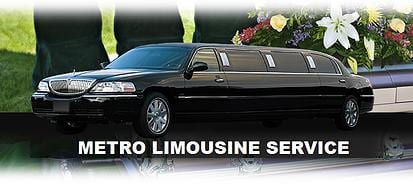 Funeral Limo Long Island
Our courteous and respectful drivers offer discreet, professional service during the journey.
Our fleet includes large-sized vehicles that can transport six family members up to thirty at once, reducing the number of vehicles needed for the service.
We can accommodate multiple stops to arrange for transport to the ceremony and the grave-site, if needed.
Our experienced chauffeurs know the area well, which reduces the risk of traffic hassles along the way.
For larger groups, Limo Buses , Shuttle Buses and Sprinter vans are all available in black.

Funeral Limo Service
When you and your family face this difficult situation, leave the limousine transportation to Metro Limousine Service in Long Island. We offer quality transportation service for funerals, so that you can remember your loved one and offer support to your close friends and family members.

Don't Drink and Drive.
For reservations & information: 1-888-METRO-LIMO or 1-888-638-7654
METRO LIMOUSINE SERVICE * 111 ALBANY AVENUE FREEPORT, NY 11520