Long Island Party Bus Transportation
Metro Limousine Service offers the ultimate Long Island Party Bus transportation experience ! We have the Largest Party Bus Fleet in Nassau County, Long Island and offer affordable & reliable ground transportation. We have Many different Limo Buses and Party Buses to choose from. Our fleet consists of a 20 Pass Party Bus, 26 Pass Party Bus, 30 Pass Party Bus and 40 Pass Party Bus. Our largest Limo Party Bus is our 50 Pass Party Bus. We offer service on Long Island NY, NYC, Manhattan, Queens, Brooklyn, Nassau County & Suffolk County. All of our Limo Buses are in Prestige Condition & certified by the (DOT) Department of Transportation and are driven by our qualified drivers/chauffeurs.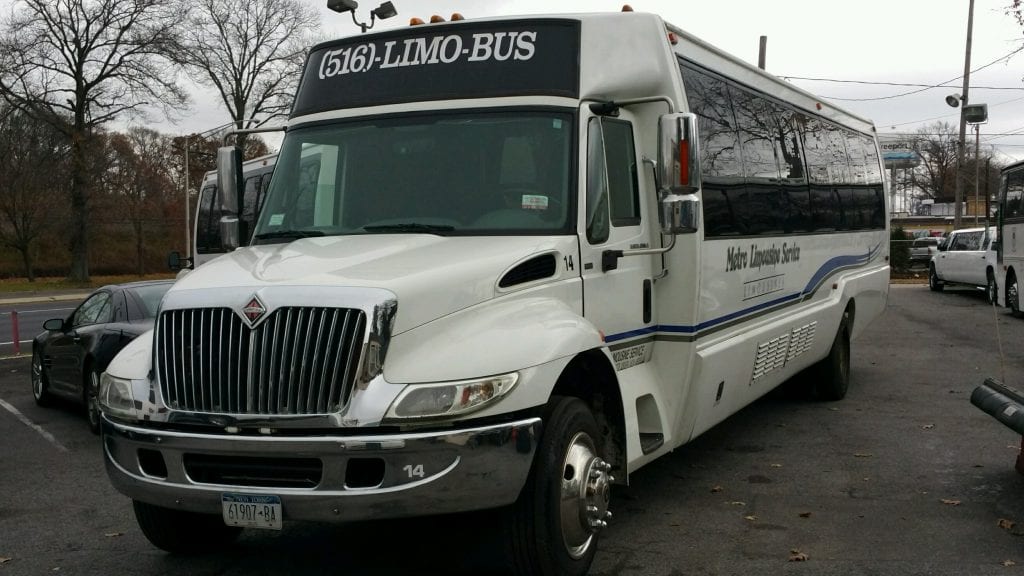 #1 Party Bus Long Island Providers
Metro Limousine Service is the #1 provider and caters to everyone's interest in experiencing the Party Bus. We cater to all Groups and Sizes of Passengers. In addition, we also offer transportation to and from New York City, The Long Island Vineyards, Group Sight Seeing Tours and Group Sporting Events.
Here you will find exactly what you are looking for whether a Large Party Bus or Small Party Bus, Metro Limousine Service has a variety of them all!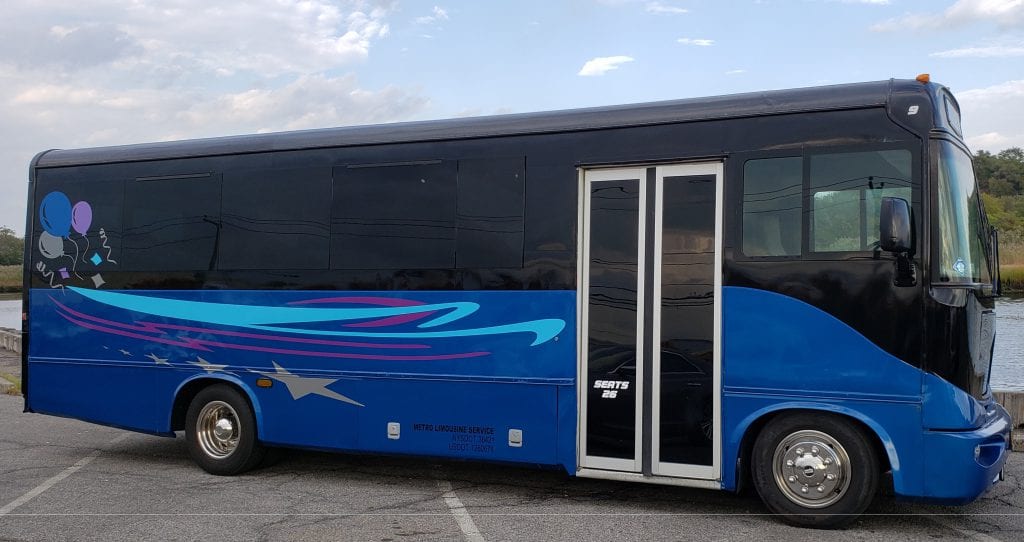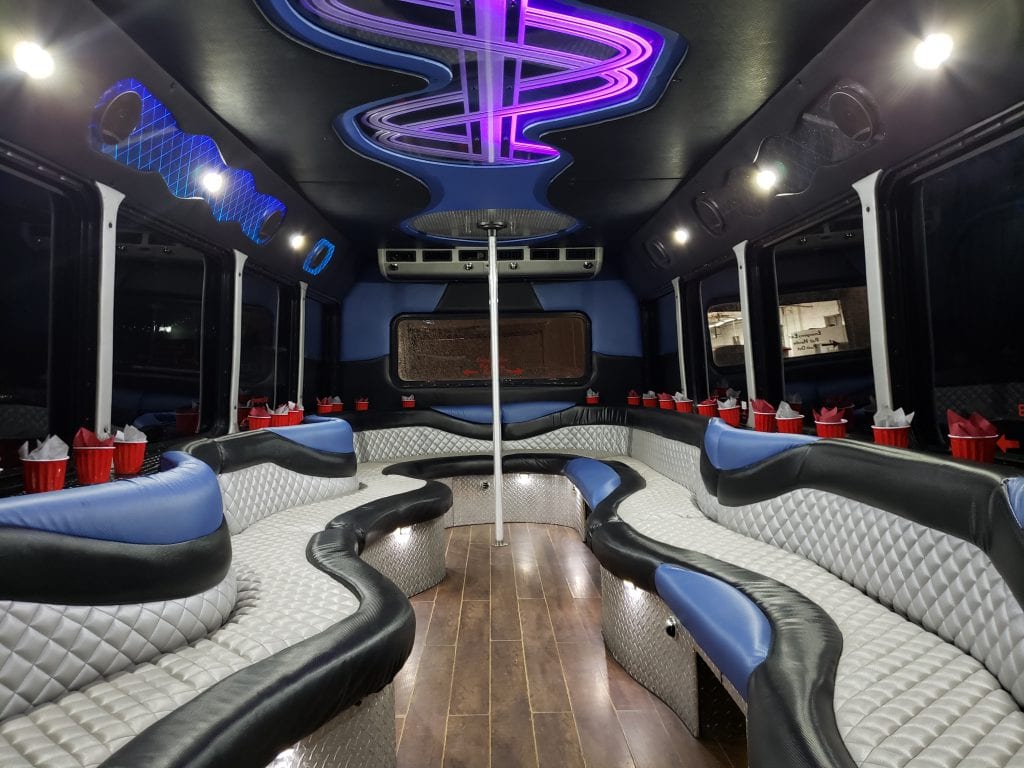 We look forward to being a part of Your Special Day! Contact us today or call us about our Party Bus Packages in Long Island.
Party Bus for JR & SR Proms
Every year tons of students graduate from High School and every year junior & seniors seek out the hottest party buses. Well look no further because Metro Limousine Service has the best prom party bus service out their. Our party buses have all the amenities you want in a party bus. High end sound systems, crazy RGB lighting & mirrored ceilings are always standard in our buses. Speak to an operator / dispatcher for additional information on renting our party bus for Junior & Senior Graduation Parties.
Party Bus for Weddings
If your having a large wedding and you need party bus transportation then let Metro Limousine Service provide you with a top notch party bus. These party buses offer wrap around style limo seating with very large ceiling heights for mobile availability. The bridal party will be delighted and comfortable in one of our party buses. Speak to an operator / dispatcher for additional information on securing a wedding rental rate.
Party Bus for Casino Trips
Our Long Island party bus is fantastic for casino trips. Bright, airy and spacious. Whether your going to Jakes 58, Atlantic City, NJ or heading down to Mohegan Sun these party buses are as much fun as playing in the casino. Their is always beverages in the bar wells and you are welcome to them. Call our office and speak to an operator / dispatcher for additional information on securing a casino trip rental rate.
Party Bus for Wine Tours
Although we operate our Long Island party bus company in Freeport, we do offer additional services like wine tours. Let our relationship with the East End vineyards speak for themselves. Owning our sister company LI Vineyard Tours,® we know where you want to visit. Let our knowledge in Long Island wine tours take you on a winery tour excursion you won't forget. Call our office and speak to an operator / dispatcher for additional information on securing a Long Island wine tour.
Party Bus & Limo Bus General Q&A:
Q: How many passengers can a party bus hold?
A. Our party buses can seat up to 50 passengers.
Q: Does it have a bathroom?
A. Our party buses with 25 or more passengers has a lavatory/bathroom.
Q: Is their party bus lighting in side the buses?
A. All of our party buses have RGB led lighting inside of them.
Q: What kind of seating does the party buses have?
A. All of the party buses in our fleet have perimeter style seating.
Q: Can I play my own music?
A. All of our party buses have blue tooth sound systems. However only 1 person can play their music at a time.
Q: Are their drinks in the party bus?
A. Yes, all of our party buses have soda, water and ice located in the bar wells.
Q: Do the party buses have privacy partitions?
A. You can drop the shades for complete privacy but your chauffeur may still see you.
Q: How do I make a reservation?
A. Please call us anytime and speak to one of our operators &/or dispatchers about details of your transportation.
Call us for a fast free quote on your Long Island party bus transportation today !
METRO LIMOUSINE SERVICE * 111 ALBANY AVENUE FREEPORT, NY 11520
Don't Drink and Drive.
For reservations & information: 1-888-METRO-LIMO or 1-888-638-7654