Limo Services Long Island
Here is Just Some of The Many Long Island Limo Services We Offer at Metro Limousine Service. Much More then just a Service But a Memory to Last a Life Time. Call us to Inquire at (888)-METRO-LIMO
INTERESTED IN HIRING US FOR ONE OF OUR EVENTS ? Lets Talk.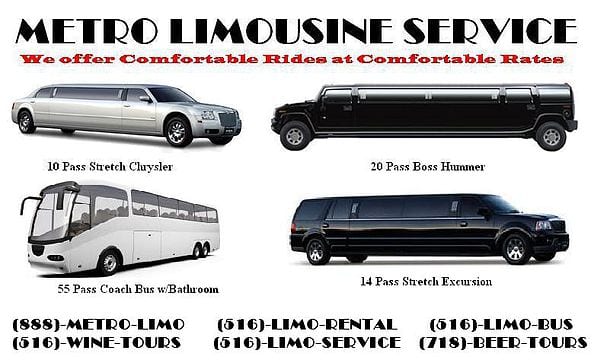 Our Testimonials
After researching my options for taking my boyfriend on a wine tasting for his 40th birthday, I decided on Metro Limousine Service, and
boy am I glad that I did! My boyfriend and I have had THE most fun while on our wine tasting, and he was so pleased and surprised by the sumptuous accommodations provided in the limo! It was perfect, perfect, perfect. I wish I could do a commercial for you guys, but then if I did, I wouldn't be able to reserve a future tasting with you guys, because everyone would be hip to the most perfect date/birthday/anniversary present in NY! Everyone was so courteous to me, even before the tour, reassuring me that I was all confirmed, and I can get compulsive, so this says a lot about the individuals running this establishment!
If my boyfriend ends up proposing to me, I have you guys to thank, because he was so, so HAPPY with his birthday present!
Thank you for the best date ever, and for an unforgettable experience from the moment we were picked up, to the moment we were dropped off. You guys truly are a gem in the middle of the 5 boroughs!
***** Sincerely – C. Ryan
I just wanted to thank you for everything. We had a great time the other night, and the whole limo experience was wonderful!
***** All the best – Brian
I just wanted to let you know what a wonderful time my daughter and her friends had last night…and her mom and sister, too…and wanted to mention what a lovely gentleman our driver, Jimmy was….the kids adored him!!
Thank you for the terrific experience.
***** Take Care – April
Just wanted to thank you guys and let you know we had a GREAT TIME! Tom, our driver was wonderful and accommodated all of our needs!
We had been on a wine tour last year with another company…but your company has been the best so far! Lunch was delicious too!
***** Thanks again-Jen
My friends and I had an amazing time on Saturday!! Richie was great, we appreciated his laid- back personality and he was very
accommodating. Ive recommended your company to alot of my friends already and I definitely plan on making it an annual event! I also
appreciate having the limobus it was a way better option for our group…Thank you for all of your help!!
***** Danielle
I booked a wine tour with Metro Limousine service and Julie was incredibly helpful organizing our tour. Lauren our driver was friendly and efficient and overall we had a fantastic day thanks to Metro Limousine.
***** Melissa Garville
I just wanted to let you know what a fantastic time we had on Saturday, and just wanted to make sure you knew how fabulous of a driver Gregory was. He was so wonderful to us and really made the day so much more fun! Thank you for your help and I will be sure to recommend your company to people in the future!
***** Thanks-Meghan
Just a quick note to say that the limo service to and from AC went off without a hitch. The return trip, in particular, was very nice in large part to the driver, Tony, who couldn't have been nicer and more efficient.I'll definitely be using your company again.Thanks again for all of your help!
***** Best-Vince Liaguno
I wanted to thank you so much for arranging the limo for us and for sending Jimmy to take care of us! We had such a wonderful time, my mom loved every minute as well as my entire family who were able to join in the special day! We had visitors from Chicago, VA, MD and PA and everyone loved the North Fork experience! I really appreciate the extra care and attention you gave us !! It was a memorable day for all involved!
***** Diana O'Neill
I wanted you know that we had an amazing time on Saturday. JK was a great driver and we are going to recommend your service as well as use your service again. Thank you for everything.
***** Aja Chism
I wanted to reiterate how wonderful my first experience was with metro limousine and li vineyard tours. Every little detail was taken care of for us. This was also my first experience planning a bachelorette party. Everything turned out fabulous. Charlie the limo driver was a delight and was extremely accommodating to our needs. We had a total of 19 girls and everything went smoothly. We had a perfect day weather-wise and a perfect experience. Everyone is still talking about the party, two weeks later. I highly recommend this company and winery tour to anyone from a birthday to a bachelorette party to just a day out with some friends.
***** Thanks-Jenna
I booked my sister's bachelorette party through Long Island Vineyard Tours and just wanted to thank you for all of your help. Julie was fantastic throughout this entire process. She explained everything about the tours thoroughly and since I didn't have much knowledge about the area, sent us to her 3 favorite vineyards. We held the party on Saturday, June 2, 2012. The weather was rainy in the morning, but luckily it started to clear up. We were only a group of 7, but we met some fun people and had an awesome time. I have already recommended your services to several friends & co-workers. You made everything so easy & for a great price. Thank you so much. I will definitely be planning another tour with you in the future.
***** Janine Harm
I just wanted to drop a note to let you know that we recently hired one of your buses to take my friends and I around the vineyards out east for a bachelorette party and our driver, Jimmy, made it one of the best experiences Ive ever had. He handled the (quite rowdy) crowd with ease and professionalism. He was also very helpful and thoughtful throughout the whole day. I will definitely be using Metro for future events and recommending your service to my friends. Thanks for making the day so great!
***** Best-Tracy Bookspan
One word-FABULOUS!! Thank you so much for everything! The day was perfect! And Jimmy was the nicest! I will think of you and recommend your services!! I hope to talk to you soon! Thanks!! PS- also, thank you for the pie for my friend- she was so happy!! ***** Randi
Matt and I wanted to let you know how wonderful it was to have your Limo Bus on Saturday. It was comfortable and it was great that we could all be together on the long ride back and forth to Montauk. Tommy was awesome! He was a great driver, accommodating and was very kind to all of us. He had a smile on his face the entire day despite the rain for a lot of the drive. Please thank him again for us for getting us back and forth safely. ***** Sabrina Lunde
We went on our wine tour this past Saturday, just wanted to let you know what a great time is was and how well it worked out. Our driver, Bernardo was fantastic- very professional, accommodating and really made the day run smoothly with 18 women! We couldn't have asked for a better day.
**** Thanks again-Katie Elias
Just wanted to drop you a line and let you know that our driver Roberto was fantastic, that everything was perfect (as you promised) and that we had a wonderful time. I highly recommend your company and tour to anyone and I will be booking with you again in the future.
***** Thanks again-Samantha
I just wanted to thank you for everything this past Saturday! My bachelorette party was a blast! The package was a perfect deal and having everything included beforehand made it easy! The tour ran so smoothly! The bus was spacious and our driver Bernardo was awesome! Everything at all the wineries was perfect! If I can send a testimonial in for your site, I gladly will! And I will be recommending you to anyone who asks!
***** Thanks-Theresa Addeo
Just wanted to thank you for all your help with my sisters bachelorette party yesterday. Everything was perfect. The driver Tony was very nice. The transportation, vineyards and lunch all worked out perfect. We had a great day! I would definitely recommend this company.
***** Thanks-Nancy
Don't Drink and Drive.
For reservations & information: 1-888-METRO-LIMO or 1-888-638-7654
METRO LIMOUSINE SERVICE * 111 ALBANY AVENUE FREEPORT, NY 11520