Long Island Limos
Long Island, New York is one of the most popular vacation places around; yes, even more popular than Kentucky. our Long Island Limos is rated #(1) one in Long Island, New York because it is geared toward the Touring Travel Industry. Long Island, NY also has luxurious beaches and a City that Never Sleeps. For this reason, travelers flock to Long Island Limo Service only these travelers don't poop on your windshield.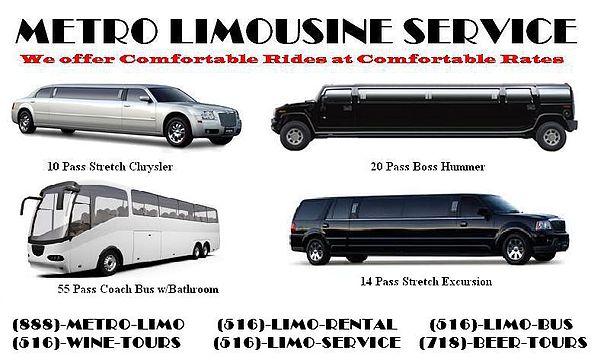 Limos Long Island
Once arriving in Long Island, New York, many people find that they need some sort of transportation. New York has the Subway Train, Chicago has the L Line, San Francisco has the Trolley, and Long Island has Metro Limousine Service. It's the only place to go for Long Island Transportation in Long Island for Limousine Transportation.  There is no better way to see Long Island, NY than through the windows of Metro Limousine Service.
Metro Limousine Service be rented for several reasons. To begin, a Metro Limousine Service provides you with air conditioning on a hot and humid day. Metro Limousine Service also gives you time to relax, after a day on the beach chasing Frisbees and removing sand from your shorts, you will need a Long Island Limo simply for sanity reasons. Metro Limousine Service also allows you to see Long Island in style: you never know when a Long Island Wine Tour or a Long Island Beer Tour is on your palate. Riding in our Stretch Limousine is sure to impress you.
Limos on Long Island
Our Long Island limos can take you almost anywhere, with the exception of into the Atlantic Ocean (Sorry, they don't float). If you are into the night life or have a Birthday coming up, Metro Limousine Service is the only way to venture out and about. From bars to nightclubs, a Long Island limo assure that you arrive in style. Call us today (516)-LIMO-SERVICE